Grand Central-42nd Street

Lines served

4 5 6 7 Shuttle

Wheelchair Accesible

Partially

Artwork

Yes
Grand Central is a station complex located, as its name suggests, beneath Grand Central Terminal.
This was the original 1904 area of the station: This area used to have four tracks and two island platforms, but it now has three tracks and two island platforms. Even though it's a difficulty, the shuttle that stops on track 3 opens its doors on both sides of the train. Back in 1904, the train would curve off the Lexington Avenue line, and onto this area of the station; the evidence is that track one extends into a tunnelway, while the other tracks stop in the middle of the floor.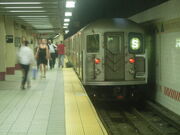 456 platform
Edit
This area, like other express stations has four tracks and two island platforms. Just north of the station, the express tracks descend to a lower level, but do not curve off to another direction. The mosaics depict a train coming in.
7 platform
Edit
This area has two tracks and an island platform, with a curved ceiling like a London Underground station.
Arts for Transit
Edit
The station has three works of art, all in different locations throughout the station
Arches, Towers, and Pyramids
Edit
By Jackie Ferrara You know the ceramic mosaic that lines the shuttle platform and the upper hallway? That is actually artwork.
By Christopher Sprout This explains what the 'Completely strange lighting and signage' on the 7 platform is about.
Fast Track and Speed Wheels
Edit
By Dan Sinclair These are mixed media sculptures that lurk around the ends of the lower hallway to the Shuttle.