Brooklyn Bridge-City Hall

Lines served

4 5 6 J Z

Alternate names

Chambers Street Brooklyn Bridge-Worth Street

Artwork

Yes
Brooklyn Bridge-Chambers Street is a station complex in the financial district of Manhattan. It lies on the east side of City Hall, on Park Row.
456 Platform (Brooklyn Bridge-City Hall)
Edit
This area has four tracks, two visible island platforms (with disused extensions toward the south) and two side platforms covered up by a wall. 6 trains terminate here, because when it leaves the station, It circles through the abandoned City Hall station.[1] Like a few other IRT express stations, this station has walled up side platforms that were used for the local trains. Next South-[Fulton Street] Next North-Express-14th street-Union Square Local-Canal Street-Chinatown Abandoned-Worth Street
JZ platform (Chambers Street)
Edit
This has four tracks, three visible island platforms, and one visible side platform. Trains going southward use the outer tracks, and trains terminating here (usually on weekends) use the inner tracks. The middle and side platforms are probably used for the
Spanish Solution
, like at Columbus Circle.
Next north and south
-See 456 platform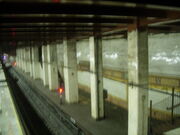 Arts for Transit
Edit
This station has two works.
Cable Crossing
Edit
By Mark Gibian-This uses stretched steel cables in the fare control area, near the 456 platforms.
Buildings, Boats, and a Bridge
Edit
By Students of P.S. 120 and P.S. 20- Porcelain enamel of a seaside view above the JMZ platforms.